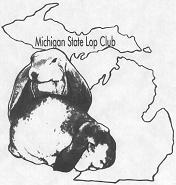 Website updated:
Lop show in Nappannee,IN see Upcoming show page for more details! 09/07/10
Raffle will be held at the Ionia,MI show on September 12th, see Lop Show page for details! 07/19/10
Any fun or interesting pictures? Please send!
The official site of the Michigan State Lop Club.
This site will be updated regularly with information on shows, winnings, articles submitted by members, and of course as many pictures as we can fit! Thank you for stopping by and if you're interested in joining or just finding out more information on these breeds please feel free to contact persons on the member list.